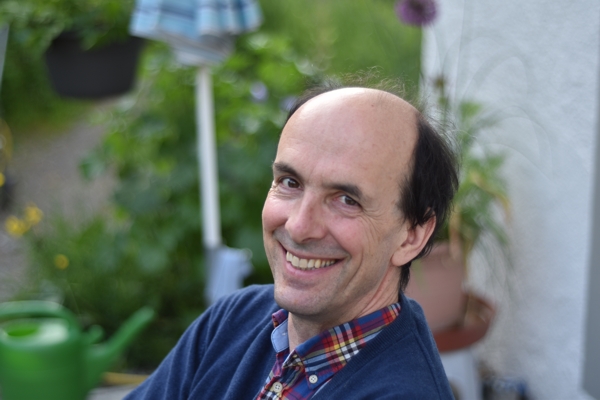 DAVID BRUEHWILER
BIOGRAPHY

David Bruehwiler was born 10th of October, 1955 in Horgen/Switzerland.
He began to take classical piano lessons by the age of 6. Soon he started to train
his ear by playing along the Beatles' songs. In his adolescent and early adult
years David intensified his ear-training by listening, playing along and analyzing
Brasilian music, Keith Emerson, Bud Powell, Oscar Peterson, Bill Evans,
Mc Coy Tyner, Herbie Hancock and many more.
During the '80s David worked as a free-lance studio- and band musician.
1984 - 1989 he studied baroque counterpoint, this subject being kind of a
philosophical revelation to him. From 1986 to 1991 David studied church organ
with swiss organist Jakob Wittwer. During this period he began to develop his
own style of classical piano music. Some important early works:
The Voice of the Holy Binna (Die Stimme der Heiligen Binna)
An Autumn Hike (Eine Herbstwanderung)
A Journey of Love (audio sample on website)
Mediterranean Etude
Since 1995 David has composed over 1.000 Jazz tunes from Bebop to
Contemporary Jazz, Latin Jazz, and his own synthesis "Neo-Baroque Jazz". The
major part of the tunes is already uploaded on his website. It will take more
time to complete the task of uploading the whole Jazz content.
Since 2012 David has produced a selection of his Jazz tunes with various
musicians living in Switzerland. Some important recordings:
Albatros
Day Dream
Night Groove
Samba para as Árvores
The Valley of Peace
Silevada's Samba  
Today David has found his own synthesis of classical style with influences of
Romanticism, Impressionism, and Jazz harmony. Some important contemporary
piano works:
Fantasy for Barbara
Ballad for Maria Lisa
Dawn
The Wedding
Waters
In Remembrance of the Light